Out of the Frying Pan...
Posted by Pete Bouchard
As these guys
once sang,
Don't think me unkind. Words are hard to find.

So I'll give it to you straight: it's going to get worse before it gets better.
Mid 90s ruled Metrowest this afternoon. Over the next two days, the heat will grow as temperatures approach 100 degrees both Thursday and Friday afternoon. Combined with the humidity, it will feel like 103 to 107 tomorrow and Friday afternoon. This has prompted the National Weather Service to issue Heat Advisories (in orange) and more strongly worded Excessive Heat Warnings (in violet) for tomorrow (light pink is a Severe T-Storm Watch for VT and Western NH through 12am and gray is a Air Quality Alert until 11pm...yeah, there's a lot going on):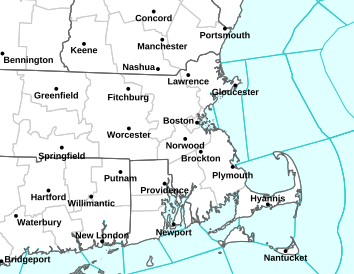 Excessive Heat Warnings are rather rare here in New England. They signal an end to "geez it's hot" and the beginning of "geez it's dangerously hot". Heat exhaustion and heat stroke are likely if you overexhert yourself. Take it slow and easy!
So how about a random storm to cool things off? Not a guarantee over the next two days, but a possibility. As you know, there's nothing a storm loves more than heat and humidity, so keep an eye to the sky in the afternoon as some of these could get out of hand. I'd peg our chances at about 40% both tomorrow and Friday.
Real relief is still coming by Saturday night, but the real relief won't be felt until Sunday.
Hang in there and keep your cool.
Pete