Post Storm Roundup
Posted by Pete Bouchard
Well, another storm is in the books. This one hammered us good, even though the storm center was hundreds of miles away. Pretty amazing if I do say so myself.
First the snow amounts. From the North Shore to the Merrimack Valley we were weathered a whithering assault of snow from very early Thursday morning through mid morning Friday. Most of the accumulation was courtesy of "ocean-effect" snow - cousin of the Lake Effect snow:
(In our case, the ocean is in place of the lake.) As long as the wind remained off the water, the ocean effect kept cranking. Here's what it looked like after the storm pulled away this morning.

Like big exclamation marks scribbled all over Cape Cod. These finally finished this evening as the air over the waters stablized. For a complete list of the snowfall amounts click here.
Coastal flooding was another matter. It was dubbed moderate by many Emergency Management Officials and police departments, but there's still plenty of cleanup to be done.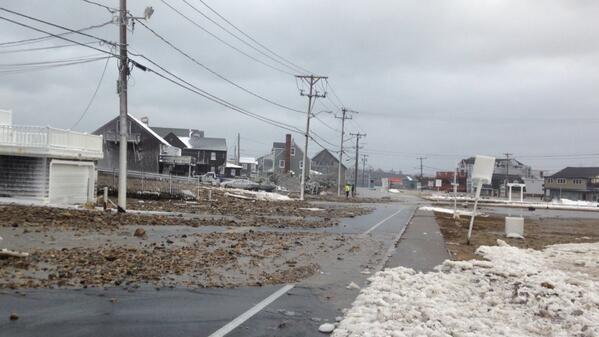 Thanks to @NickMerianos for this shot after high tide in the Brant Rock section of Marshfield.
Now to the post storm cold. Bitter, eh? Wind Chill Advisory is up through tomorrow morning for wind chills to 15-20 below! That's what it may feel like for a spell tonight and early tomorrow morning. The actual air temperatures are another matter:
Oddly, hours after we hit these numbers tomorrow, the arctic air will be in retreat. There is a massive warmup in store from Saturday to Monday morning that gets underway just after the sun rises on Saturday. (Baby steps first, then a surge late Sunday night.)
We'll do some melting, but then with the bitter air rushing back in on Monday, we could be set up for a flash freeze. Temperatures will near 50 before crashing into the 20s by afternoon on Monday. Any standing untreated meltwater will freeze!! Dig it?
Cold will stick around through midweek. No big storms brewing, but the pattern is active and we're on alert.
Enjoy the weekend!
Pete