The Plunge, Now The Rise
Posted by Chris Lambert
An Arctic start for sure this morning as temps dipped to -16 in Norwood, -12 in Bedford, -9 in Plymouth, -7 on the Vineyard, and even -3 in Hyannis. As of 7:30AM, the coldest I've seen in Boston at Logan Airport is 2, and -4 in Worcester. Boston and Worcester's records are safe at -4 and -8 respectively.
The cold this morning is breath taking, literally, and figuratively. It's a beautiful sunrise and I've seen some fantastic pictures of Arctic sea smoke over the ocean. Of course, if you're still cleaning up damage along the coast, the ocean has been anything but beautiful over the last 48hours.
So where do we go from here? Well, the Arctic air eases it's grip this afternoon as highs head back into the middle 20s. There's a bit of a breeze, but wind chills are no longer dangerous, so you can hit the ski slopes or send the kids out sledding. Temps quickly start dropping early this evening, then level off and rise back into the lower 20s by daybreak tomorrow. Clouds increase tonight, and there could be a touch of freezing mist near Buzzards Bay tomorrow morning. For the rest of us, a few patches of mist or a light shower passes by Sunday, but we'll get our dry hours too with temps in the 30s to near 40. Outside 495, there could be pockets of freezing drizzle in the afternoon. Even when temps go above freezing, the ground is so cold, that black ice still is possible.
We'll see all rain tomorrow night - midday Monday. Even if an inch of rain falls, roofs should be ok since the snow on them is so light weight (little water content to it). Temps near 50 Monday morning before crashing in the afternoon. That'll set-up a cold one for Tuesday with highs in the teens.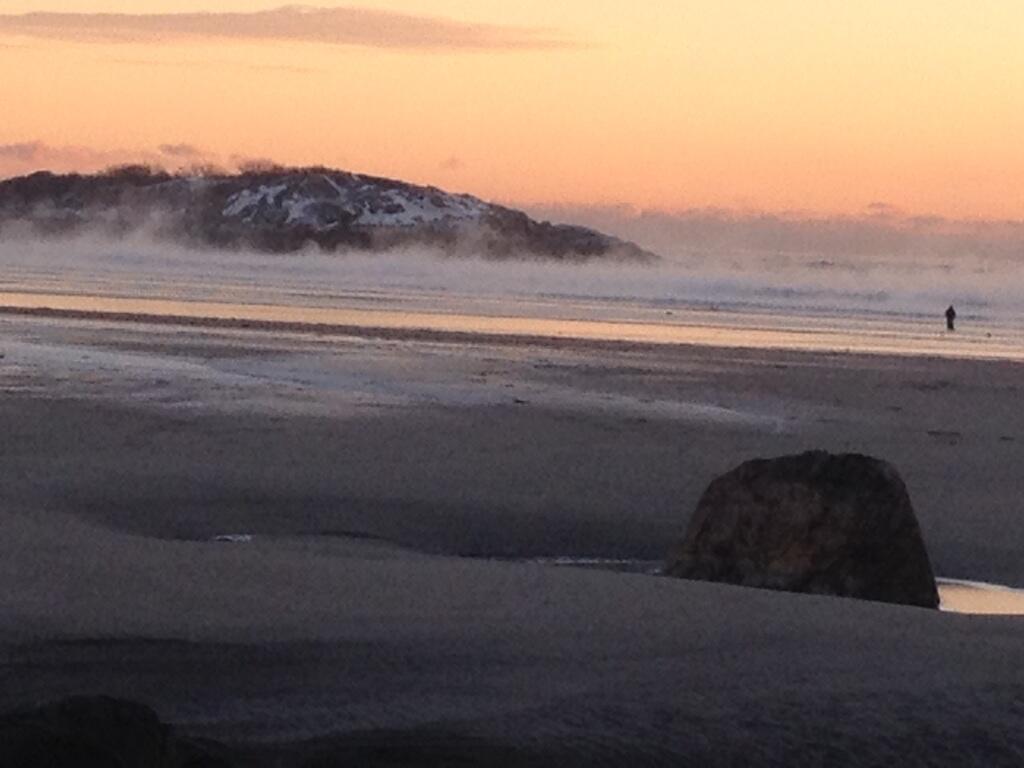 Pete from Cape Ann sent in this picture of Arctic sea smoke over Good Harbor Beach in Gloucester this morning.